A little kitten was found alone during a TNR (trap-neuter-return) project. After she was taken into foster care, they noticed something unusual with the little kitten's face.
Meet Gaia.
The kitten was just skin and bones when a feral colony trapper found her far away from the main area of the colony without a mother in sight. They quickly noticed her wounds which appeared to be caused by jaws or claws. For whatever reason, the kitten was dropped and survived
Susan Spaulding, co-founder of National Kitten Coalition (an nonprofit organization in Gainesville VA) took her into her care and was determined to get the little one back on her paws.
"Gaia arrived in foster as a three week old weighing just 7.6 ounces. The injuries were treated but Gaia almost immediately began failing," Susan told Love Meow.
None of the tests showed anything, and the vet was unable to provide a diagnosis on anything specific. "She had been struggling with fever, diarrhea, weight loss and lethargy with no definitive diagnosis."
Susan, who trains others to care for kittens like Gaia, immediately placed her on the aggressive "Fading Kitten Protocol" where she followed specific instructions to nourish the kitten and help her fortify her immune system.
"It was touch and go for about a week, and she became our 'alien' when she lost a lot of her hair," Susan told Love Meow.
Gaia's hair loss also occurred on other parts of her body during her illness. The little fur baby was beginning to eat solid food. She wanted to get stronger and wasn't willing to give up.
It took about 2 and a half weeks for her coat to return to normal.
"The color on both of her sides grew in darker (like her points). She made it through everything life threw at her," Susan told Love Meow.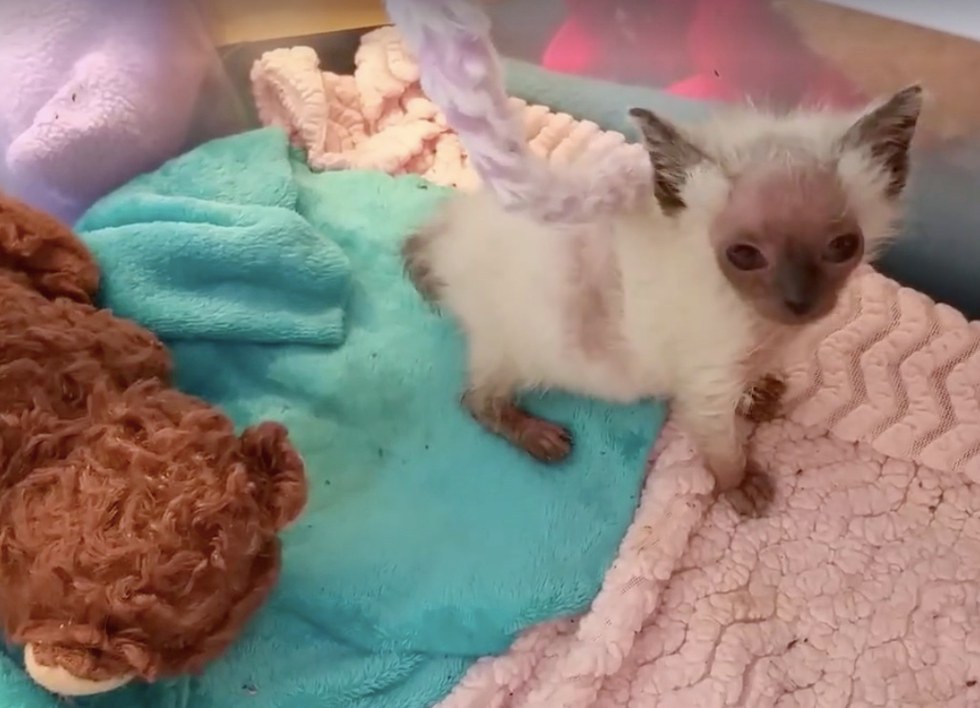 Watch the little adorable "alien" in this video:
Gaia has come a long way since she was found in poor shape.
She's turned into a real stunner with deep sky blue eyes and big paws with extra toes.
It remains a mystery how she got her "alien" face, but the kitten has successfully defeated her illness and is thriving.
Look at her now and those big mittens!